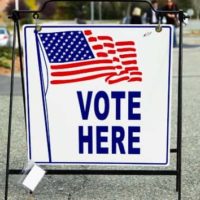 (5.19.20) Bend, OR – The Oregon Primary Election has arrived, despite the COVID-19 pandemic. Officials tell MyCentralOregon.com that there is absolutely no delay or major changes, and the election is a go.
If you did not mail in your ballot by now, you are out of time. However, don't worry because you can still cast your vote tonight, just drop off your ballot at an official election drop-off site by 8p.m. Tuesday evening (May 19).
Thanks to the Source Weekly for compiling a list of drop-off voting sites all across Central Oregon. Check out the full detailed list below.
*Make sure to tune-in to the Dave Clemens Experience tomorrow morning starting @ 5a.m., for updates on the results from News Director Austin Reed, on MyCentralOregon.com's heritage radio station, 105.7 KQAK-FM.
We'll also provide election updates tomorrow morning between 6-9a.m., on The Peak 104.1, KBNW AM/FM and KRCO AM/FM, (also owned and operated by MyCentralOregon.com/Horizon Broadcasting Group).
Here's where to drop your ballot:
Bend
Deschutes Services Center
1300 NW Wall St.
Open until 8pm
Deschutes County Road Department
61150 SE 27th St.
Open until 8pm
Old Mill
459 SW Bluff Dr.
Open until 8pm
Bradbury Park & Ride
1000 SW Bradbury Way (across from Park and Rec Pavillion)
Open until 8pm
Pine Nursery Park *new location*
3750 NE Purcell Blvd. (east end of parking lot)
Open until 8pm
La Pine
La Pine Public Library
16425 1st St.
Open until 8pm
Redmond
Redmond Public Library
827 SW Deschutes Ave. (west side of library)
Open until 8pm
Sisters
Sisters City Hall
520 E Cascades Ave.
Open until 8pm
Sunriver
Sunriver Public Library
56855 Venture Ln.
Open until 8pm
Up-to-the-minute results:
Deschutes County Results – click here
Crook County Results – click here
Jefferson County Results – click here