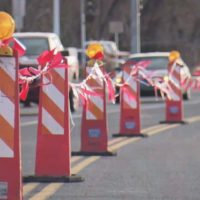 GALLUP, N.M. (KRQE) – While most of the state starts to see a loosening up of the shutdown, the Governor has put Gallup on a lock down. At noon, New Mexico State Police set up checkpoints blocking off the city to keep the outsiders out, as the Coronavirus continues to skyrocket on the nearby Navajo Nation.
This lockdown means entrances and exits in and out of Gallup are blocked off. Unless you have a Gallup address, you're not getting in.
"People traveling through the state of New Mexico on I-40, they're not going to be allowed into the city," says Lt. Mark Soriano of NMSP.
The Department of Transportation set up 11-checkpoints and road blocks at all points of entry into Gallup. Each entry will have NMSP and the Army National Guard there to direct people.
Just yesterday, the mayor of Gallup sent a letter to the Governor asking for the lock down under the Riot Control Act. Governor Michelle Lujan Grisham quickly responded and agreed.
This means all essential businesses must close from 5:00 p.m. to 8:00 a.m. and no one is allowed into the city. NMSP says travelers heading through New Mexico cannot stop in Gallup for gas, food, or a hotel room.
People in Gallup agree the lock down is necessary.