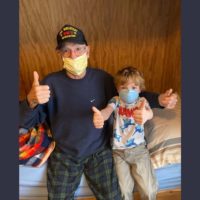 (OregonLive) – MyCentralOregon.com is committed to sharing stories of hope during this COVID-19 pandemic.
We found this story today, via OregonLive.com:
Bill Kelly lived through the Great Depression. He served in the South Pacific during World War II. At 95, the Yamhill, Oregon County man still has a bit of fight left in him, even after a weeks-long bout with coronavirus.
"Grandpa Bill's pretty hardcore," his granddaughter, Rose Etherington, 41, told The Oregonian/OregonLive.
Kelly completed his COVID-19 recovery Monday, she said, which also marked the end of a 14-day home quarantine for the rest of the family.
Their saga began when Kelly came down with a low-grade fever and complained of not feeling well on March 15.
Kelly even told the NY POST, "
'I survived Guam, I can get through this bulls–t''.
Full story from OregonLive here.