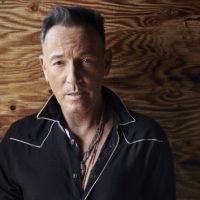 Credit: Danny ClinchIf Bruce Springsteen ever finds himself on fire again, he can call on his son Sam to help.
The Boss' 26-year-old son was sworn in as a firefighter in Jersey City, New Jersey, on Tuesday morning and his famous dad and his mom, E Street Band backing singer Patti Scialfa, were in attendance at the ceremony, ABC 7 reports.
Sam was one of 15 firefighters sworn in by Jersey City Mayor Steven Fulop at City Hall.
"This is my son's day, so I'm staying out of it," Bruce told an ABC 7 reporter. "We're very proud."
As for how he felt about Sam's decision to become a firefighter, Bruce said, "It was a long road. He was very dedicated for quite a few years, and we're just excited for him today."
Sam was a bit reticent to comment on his achievement, telling the media that he didn't have "too much to say," although he noted that training to become a firefighter "wasn't easy."
Copyright © 2020, ABC Audio. All rights reserved.