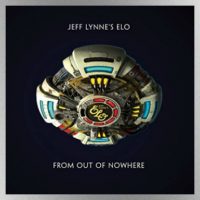 Columbia RecordsJeff Lynne's ELO, the re-formed version of Electric Light Orchestra, has topped the U.K.'s Official Albums Chart with its new album, From Out of Nowhere. This marks the first time that a studio album by the band has reached #1 on the chart in more than 38 years, dating back to the summer of 1981, when Time spent two weeks atop the tally.
ELO did score a #1 U.K. album in 2016 with the All Over the World: The Very Best Of, a 2005 hits compilation that got a sales boost when the band played in the "legends" slot of the Glastonbury Festival that year.
In the wake of the big chart news, Jeff Lynne's ELO posted a message on its Twitter that reads, "Thank you to all our amazing fans for helping make #FromOutOfNowhere the #1 album in the UK today! This really has been the time of our life!"
Jeff Lynne's ELO's previous album, 2015's Alone in the Universe, peaked at #4 on the U.K. albums chart and reached #23 on the Billboard 200.
ELO has never had a #1 album in the U.S. Its highest-charting studio album was 1977's Out of the Blue, which hit #4 on the tally.
Copyright © 2019, ABC Audio. All rights reserved.