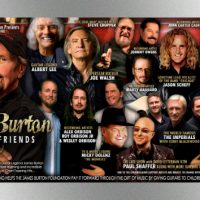 Courtesy of James Burton Foundation and Gary BridgesThis Tuesday in Nashville, a jaw-dropping lineup of music stars will participate in a special charity concert headlined and hosted by former Elvis Presley and Ricky Nelson guitarist James Burton.
The James Burton & Friends concert will feature Queen's Brian May, Joe Walsh, Sammy Hagar, The Monkees' Micky Dolenz, ex-Chicago singer Jason Scheff, former Doobie Brothers guitarist Jeff "Skunk" Baxter and soul guitar legend Steve Cropper.
The show, at Nashville's Schermerhorn Symphony Center, will feature the various artists playing noteworthy songs from Burton's six-decade career. It'll raise money for the James Burton Foundation, which help provide guitars to school music programs, children's hospitals and veterans.
Other performers on the bill: Paul Shaffer, acclaimed session guitarist Albert Lee, Stray Cats drummer Slim Jim Phantom, Johnny Cash's son John Carter Cash and Roy Orbison's sons Roy Jr., Alex and Wesley.
General admission tickets are available at NashvilleSymphony.org. VIP packages, which include premium seating and a meet-and-greet, can be purchased by contacting the James Burton Foundation by phone at 318-424-5000 or by email at JamesBurtonFest@aol.com.
Copyright © 2019, ABC Audio. All rights reserved.