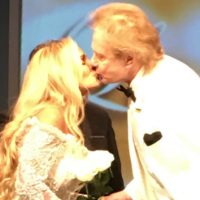 Courtesy of AXS TVThe music world sadly lost Eddie Money last month not long after the "Two Tickets to Paradise" singer revealed that he'd been diagnosed with stage four esophageal cancer. However, a new episode of the rocker's AXS TV series Real Money, which airs Thursday at 9:30 p.m. ET/6:30 p.m. PT, captures Eddie during a happy occasion earlier this year, the renewal of his marriage vows with his wife of 30 years, Laurie.
Eddie and Laurie had been talking about renewing their vows in a church for a few years, and went ahead with the plan this past February at their own church after Money had received his cancer diagnosis in 2018.
"Eddie and I felt strongly about getting married in the eyes of God, and his illness prompted us to stop putting it off," Laurie explains. "This ceremony meant more to both of us than the original, since we knew exactly what the words meant that we were saying to each other because we'd already lived it."
You can watch a preview clip from the program at AXS.tv. The video features footage from the ceremony, which was attended by Money's four sons and his daughter, as well as commentary from Eddie and Laurie.
In the clip, Eddie says as he stands at the altar with wife, "[I'm celebrating] my faith and love for Jesus Christ, and how well he's taken care of my family. And I always wanted to get married in the church, and he's up there looking down [saying], 'Finally, you're doing what I want."
Then, in an interview segment, Eddie tells the camera, "I tell you, 30 years with my wife are the 30 best years of my life."
The preview also includes footage from the couple's wedding in 1989.
Eddie died on September 13.
Copyright © 2019, ABC Audio. All rights reserved.