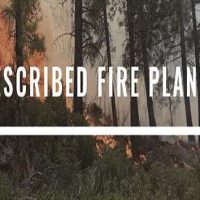 Prineville, ORE. — In a continuation of recent prescribed burn projects, fire managers on the Ochoco National Forest are planning to ignite juniper jackpots on 1,000 acres near Prineville, Ore. as early as next week.
The Old Dry Creek prescribed burn project is located about eight miles northeast of Prineville, about one mile southeast of McKay Creek, and four miles west of Mill Creek. See attached map or visit: http://www.centraloregonfire.org/what-is-prescribed-fire/when-where-prescribed-fire-smoke/
This type of prescribed fire, known as "jackpot burning," addresses high concentrations of naturally-occurring or thinning-related downed woody debris.
Firefighters will be burning individual concentrations of downed juniper trees left over from a large thinning project that was undertaken in coordination with Rocky Mountain Elk Foundation and under an agreement with adjacent private land owners.
Firefighters also plan to burn around 100 acres of juniper jackpots next week in the HEJ project area, just north of Big Summit Prairie on both sides of Forest Service Road 22.