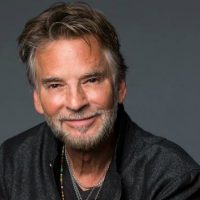 Credit: Leslie Hassler
Kenny Loggins has teamed up with Adam Reader, the online music expert and interviewer known as the Professor of Rock, for a new series of web documentaries that will feature Loggins sharing the stories behind some of his best-known tunes.
Dubbed the Summer of Loggins, the series will feature a new weekly installment premiering each Tuesday at ProfessorofRock.com through September 25.
In a preview trailer for the Summer of Loggins series, Reader runs down the singer/songwriter's many career achievements, including his work with Jim Messina in the duo Loggins & Messina and his monster hits that appeared on film soundtracks during the 1980s. The clip also features snippets of Kenny talking about some of those hits, like the Footloose theme song, "I'm Alright" from Caddyshack, and "Danger Zone" from Top Gun.
To bring the Summer of Loggins celebration to a close, a live event featuring Kenny and the Professor of Rock will be held on Saturday, October 6, at Sand Hollow Resort in St. George, Utah. A contest has been launched offering one fan the chance to nab two free VIP tickets to the event, including a meet-and-greet, round-trip airfare and a two-night stay at the resort for the winner and a guest. To enter, you must make and submit a video explaining why you're the ultimate Kenny Loggins fan. Find out more about the contest at SummerofLoggins.com and at the Professor of Rock's Facebook fan page.
Copyright © 2018, ABC Radio. All rights reserved.
Summmer of Loggins Promo from The Professor of Rock on Vimeo.