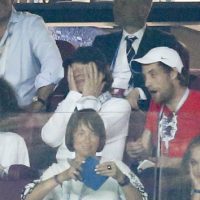 Jean Catuffe/Getty ImagesSome English soccer fans have charged Rolling Stones singer Mick Jagger with jinxing whatever team he supports, including his home country's, and the outcome of Wednesday's World Cup semi-final match in Moscow, a 2-1 loss to Croatia, has done nothing to change that.
Jagger was in the stands Wednesday rooting for England, but the loss continues an apparent trend that began in 2010: At every World Cup match the rock legend has attended, the team he's supported has been defeated.
According to U.K. newspaper The Telegraph, the "curse" started in 2010 when Jagger and former President Bill Clinton attended a match between the United States and Ghana during the South Africa-hosted World Cup. The U.S. fell 2-1 and were knocked out of the tournament.
In 2014, when the World Cup took place in Brazil, Mick was in attendance as the host country's team was crushed by Germany 7-1 in the semi-finals. Jagger, whose son Lucas is the product of an affair with Brazilian model Luciana Morad, was, as you'd expect, rooting for Brazil.
Move ahead to this year's World Cup, as Jagger — with sons Lucas and James accompanying him — was seen at France's semi-final match against Belgium on Tuesday. Judging by photos capturing him scowling in the stands, Mick was likely rooting for the Belgians, who were defeated 1-0 by the French.
For England's match against Croatia, Jagger was once again joined by his two sons. He even posted a video on his Twitter feed showing him in the stands yelling, "Come on, England!" Unfortunately for Mick and his fellow fans, England's hopes for a victory were shattered.
Meanwhile, Jagger may have unknowingly foreshadowed England's 2018 World Cup campaign with a solo single he released last year. The song's title? "England Lost."
Copyright © 2018, ABC Radio. All rights reserved.